County Information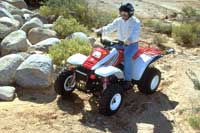 Rusk County has excellent trails!
Blue Hills Area ATV Trail
Located in northwestern Rusk County, the Blue Hills take their name from the bluish color the rolling landscape takes on through the morning mist. The area is home to a number of picturesque lakes, abundant wildlife and an outstanding 20-mile developed ATV trail.
The trailhead is located 12 miles north of Weyerhaeuser off Hwy F on North Buck's Lake Rd. The trail is open from June 1 through December 1.
Trails on County Forest Land
Logging roads provide another great trail-riding opportunity in Rusk County. The many miles of logging roads that run through the 80,000-acre County Forest Lands are open to ATV traffic, with the exception of a few restricted areas. County Forest land cannot be utilized by ATV's until after the Spring thaw period which ends on June 1 of each year. After June 1, the County forest lands can be accessed by ATV's. Maps are available at the Visitors Center and at the County Forestry Office.