Rusk County is home to more than 250 lakes and flowages of all sizes, including 16 class-A musky lakes. You'll find everything from backcountry ponds to some of Wisconsin's largest flowages, including Flambeau, Big Falls and Ladysmith flowages. In addition to great fishing for trophy musky, Rusk County offers walleye, smallmouth and largemouth bass, bluegill, yellow perch, crappie, northern pike, catfish and sturgeon. You will also find more than 120 miles of trout streams in the county. During the winter, Rusk County offers first-class ice fishing opportunities. For a little healthy competition, attend the annual Fun on the Frozen Flambeau ice fishing contest, with a chance to win prizes.
Top fishing lakes include 534-acre Potato Lake, noted for its excellent musky fishing as well as good crappie fishing. Big Falls, Flambeau and Ladysmith flowages offer quality multi-species fishing and are particularly notable for their incredible smallmouth bass fishing. Both the Flambeau River and Chippewa River in Rusk County offer tremendous fishing for walleye, musky and smallmouth bass. And, just south of Ladysmith is Lake Holcombe, one of the Midwest's premier fishing lakes.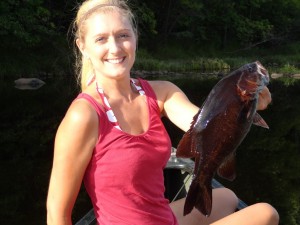 Anglers will also find excellent panfish opportunities, including excellent bluegill and crappie fishing. Lake maps are available for many of Rusk County's largest lakes. Many of the small tributaries that flow in Rusk County's larger rivers offer excellent fishing for trout. Brook trout are the native species in the area, providing excellent fishing for anglers of all ability levels. Brown trout are also present in some creeks. Anglers looking to fish remote waters for wild fish will love Rusk County.