Rusk County's wilderness areas offer excellent hunting opportunities for white-tailed deer, black bear, wild turkey and waterfowl. The ruffed grouse hunting in Rusk County is second to none. Extensive public lands and quality wildlife habitat make Rusk County an ideal hunting destination.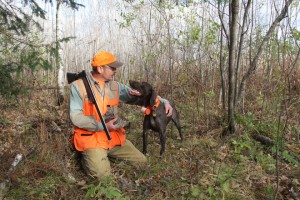 Some of the finest ruffed grouse hunting in northern Wisconsin can be found in Rusk County. The mix of old and new hardwoods makes for ideal habitat. Hunters come from around the country to hunt grouse in Rusk County's beautiful forests. Over the past decade, the population of wild turkey in Rusk County has steadily increased. Today, hunters will find outstanding turkey hunting throughout the area.
Some of the most popular public hunting areas in Rusk County include:
Rusk County Forest Lands – Contains nearly 90,000 acres of land open to hunting. See map of county land.
Flambeau River State Forest – More than 90,000 acres of hunting lands. Learn more.
State Wildlife Areas – Four different state wildlife areas offer hunting.
Get current Wisconsin hunting seasons and regulations.